Good thing I'm sitting down.
Because Rachel from DaintyBaby.com just hit me upside the head with a frying pan of news, that ERGObaby, the baby wearing company, has acquired Orbit Baby, the off-the-hook, advanced stroller/car seat transport system company.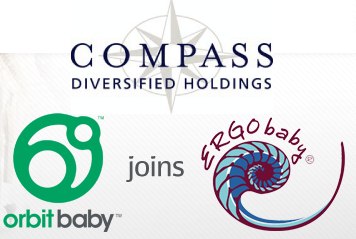 I mean, really? It's like hippies vs. hipsters all up in there. I didn't even know ERGObaby people had cars. Except for maybe the occasional biodiesel conversion. But that's how market segmentation works, I guess; you don't build a broad, middle market Baby Durables subsidiary by targeting a single parent niche.
And growing strong North American market leaders that can throw off healthy cash is what Compass Diversified Holdings [NYSE: CODI] is all about. Compass is a publicly traded holding company which specializes in acquiring small-to-medium-sized businesses, and in providing them growth capital. Their seemingly random-sounding portfolio includes Camelbak, the water backpack guys; Liberty Safe, a leading gun safe manufacturer; and Advanced Circuits, a custom circuitboard printer. The unifying thread is businesses with the potential to yield a nice cash flow. And I suppose $1500 stroller systems fit that bill.
Truth be told, a baby gear company's no more out of place at Compass than Graco is at Rubbermaid, or everybody else is at Dorel.
One datapoint as I tried to make sense of how this deal came together is tucked away in this Reuters profile of CODI: ERGObaby's 2010 revenue for the 14 weeks it was part of Compass equaled 0.7% of the company's net revenue, which was $1.658 billion. Which calculates out to what, around $47 million worth of baby carriers in 2010? That seems like a lot to me. As awesome as it is, I can't imagine Orbit sells anywhere near that amount.
Yeah, that makes no sense. According Compass's latest 10-Q, ERGObaby's 2011 sales are running about $26-28 million. And they were $22.8 million in 2009, with a pretty healthy EBITDA of $13 million, and a 7x multiple, for an acquisition price of $91 million.
The Orbit Baby deal press release says the acquisition price is $17.5 million, and consolidated 2011 revenues would be $53 million, which means Orbit's revenue was also around $26 million. But their margins and cash flow must be much less. If you use ERGO's multiple, for example, you only get $2.5 million. I'm going the multiple's a little lower, and that operating cash flow is a little higher, and that Orbit needed capital to grow beyond their current product range. Or maybe someone needed to cash out.
All I know is, you won't find this kind of rambling ruminations about the workings of the Baby Industrial Complex on any of those Mouse-type parenting blogs.
Orbit Baby Joins ERGObaby [ergobabycarrier.com]
Accretive Add-On Acquisition Expands ERGObaby's Global Presence in the Baby Durables Market [prnewswire.com]