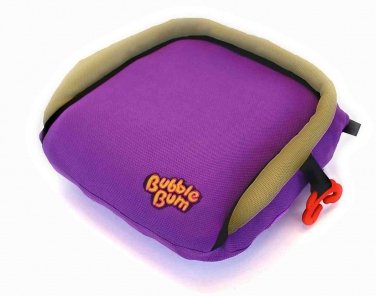 The Bubble Bum is the third inflatable European booster seat solution to surface here on Daddy Types. Is it finally the one that actually works well enough to use?
Frankly, I find it a bit extraordinary that the Bubble Bum meets EU R44.04 safety standards "in the deflated state," and yet folds small enough to fit "in Granny's glove compartment."
[UPDATE FROM THE BUBBLE BUMS THEMSELVES: I emailed some followup questions, and the BubbleBum folks got right back to me. The EU standard has a "worst case scenario" component, which in this case, meant testing the seat deflated. Because the Bubble Bum also has memory foam, it retains sufficient volume even when punctured or deflated.
They also pointed out that a booster seat like the BubbleBum is not classified as a child restraint system, but a seat belt positioner [and so involves the use of the positioning clip, not just the seat]. The car's own shoulder belt is the restraint system, obviously.]
But whatever, if a Bubble Bum actually does fit in between two traditional hard-shell booster or car seats, then they have solved one of the greatest parenting dilemmas this side of paid paternity leave: how to not buy a three-row vehicle.
[UPDATE FROM THE COMMENTS: Wow, is this true, it's only 13x13 inches? You could fit that almost anywhere! ]
That they also make far-flung rental car use easier is just a bonus. That they compound your guilt for not using a car seat in a taxi is, well, let's just call it a win for child safety.
Buy your Bubble Bum from Magic Beans for $39.99 and I get good karma [mbeans.com]
Buy your BubbleBum inflatable booster seat from Amazon, and I get a dollar [amazon]
Previously: Bedi EasyCarSeat by Gumotex
Luftikid inflatable car seat: der Junge in the Plastic Bubble