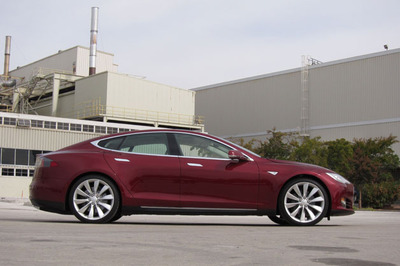 for more and bigger images, check out autoblog
Wow, has it really been two years since Tesla unveiled the Model S, the 4-door, seven [!] passenger, electric awesomemobile, without showing what the kid-sized, rear-facing jump seats in the trunk looked like?
Yes, yes it has.
Glad to see I'm not the only one wondering whatever happened to that dream. DT reader Seth flagged Autoblog's first ride in a Tesla S prototype over the weekend at a company preview for the hundreds [?] of folks who have put down deposits for one.
And there is a photo of the jump seats, complete with five point harnesses. And they look awesome. If Tesla can pull this off, I predict it will throw the Luxury Hauler With Character-Forming Rear-Facing Seats segment into turmoil. Watch out, Mercedes E-Class wagon! [Mercedes still does import the wagon, right?]
First Ride: 2012 Tesla Model S Beta [autoblog]
Previously: Baby In Trunk?