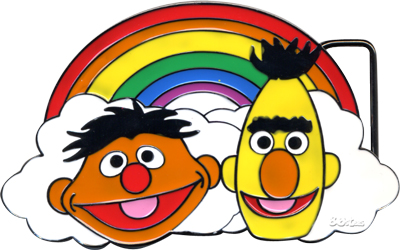 I thought the petition was ridiculous enough to ignore, but Sesame Workshop's statement on Bert & Ernie getting married was too ridiculous not to call bullshit on it:
Bert and Ernie are best friends. They were created to teach preschoolers that people can be good friends with those who are very different from themselves.

Even though they are identified as male characters and possess many human traits and characteristics (as most Sesame Street Muppets™ do), they remain puppets, and do not have a sexual orientation.
Just compare that to the more ambiguous phrasing of
'Street's
earliest responses to the question of Bert & Ernie's looming marriage, from 1993 [via
the Muppet Wiki
]:
Bert and Ernie, who've been on Sesame Street for 25 years, do not portray a gay couple, and there are no plans for them to do so in the future. They are puppets, not humans.
See, they just "do not
portray
a gay couple." Totally different.
Sesame Workshop statement on Bert & Ernie petitions [facebook]
Are Ernie and Bert Gay? [muppet.wikia.com]