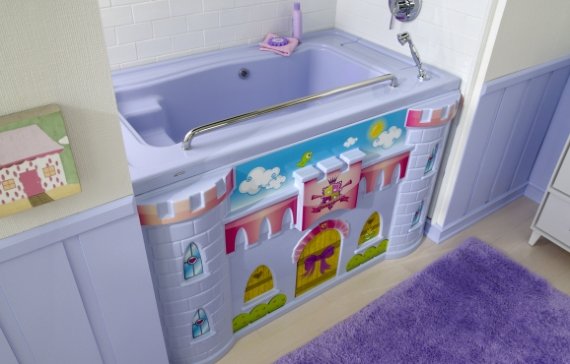 You know, I always thought the point of spending several thousand dollars on a bathtub was that you only did it once a generation. Or once a housing bubble, or once a refi.
Whatever it was, you weren't supposed to drop $2,200--or as we used to call them around here, 2BU, Bugaboo Units--on something that's designed to be useless in just a couple of years. And that doesn't seem to have a resale market to speak of. And that isn't a giant, cast acrylic piece of fug.
Because the only way you could begin to justify the buy, I'd think, is if it were somehow an undeniably awesome piece of design, beautiful, innovative, and compelling in and of itself. Which, well, is pretty much the exact opposite of the American Standard FunBath™, a massive cover & frame set-up that temporarily converts one of your many normal tubs into a slightly taller, slightly shallower, and much, much fuglier kid tub. For "toddlers, preschoolers, and kindergarteners."
The $1,800 "customizable" [aka plain] FunBath™ is the still pretty evil lesser of the three options [the "boy's" solution is a fire truck.] Seriously, if you're gonna drop this kind of coin on a kid's bathroom project, find an artist to paint a non-Disney, non-Viacom design on it for you. Or better yet, spend it on an awesome custom tile job.
American Standard - FunBath video and image gallery [americanstandard-us.com via aunt annie]