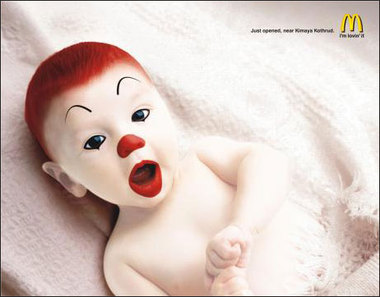 McDonald's forced decriminalization of the Happy Meal got a lot of play last week, even though the healthier changes--apples, no dipper, fewer fries, vegetable option, no sodas--don't take effect until September. And frankly, except for the vegetable [probably carrot sticks] alternative, they've basically been available all along. And they all seem like such no brainers, so big whoop, right?
Except that apparently only 11% of Happy Meals are ordered with apple dippers instead of fries?? That's amazing. It's like Wall*E is already here. We usually get one of each, and end up splitting the fries between the kids anyway, because they just don't eat that many. And I still end up finishing off a McNugget apiece.
But man, it blows my apparently un-American mind how "McDonald's made it clear that it was changing the composition of Happy Meals in response to parental and consumer pressure."
Which I take to mean they're trying to convince politicians that changes in child nutrition regulations or menu labeling laws had nothing to do with it, so don't bother tightening any more laws, mkay?