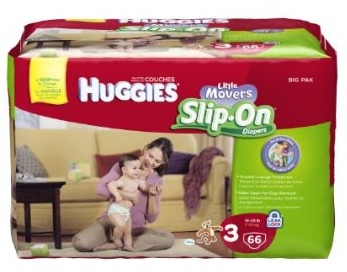 I am not really sure that slip-on diapers are really as "game-changing" as Huggies VP Eric Seidel wants them to be. I mean, they are just up-crystalled, downsized Pull-Ups capable of "handling multiple insults." But I am always glad to see folks from Big Diaper talking shop and throwing around their lingo in the NY Times.
Also, you'd think by now they could come up with a less judgmental, less uptight, more servicey, solutiony term than "insult."
Any suggestions? Feel free to make them in the comments. Not that any diaper execs will see them, since they spend their entire $50 million ad budget only on "moms."
Making The Diaper Change Easier [nytimes.com]
Buy Huggies Little Mover Slip-ons from Amazon for--wow, $0.47/apiece... [amazon]
Compared to just $0.25/ea for regular Little Movers Diapers...
...and $0.35-0.41/ea. for regular 2T Pull-Ups. Now that's game-changing!