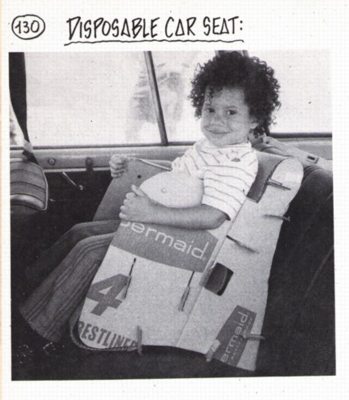 The industry association. What a racket. Earn millions of dollars a year saying things about politics your corporate members are too embarrassed to have come out of their own PR flacks' mouths.
And so we come to "Global Automakers" comments to NHTSA about the coming plan to provide consumers with a fit standard that shows which of the dozens of models of infant carriers, car seats, and booster seats fit in which seating positions in which hundreds of models of cars.
It is obviously a complex matrix of a problem, and the Automakers are correct to point out that it will involve much testing and oversight and information management and consumer education. And that the government requirement that car models added to the fit list must have nine car seat options [cheap, medium, and expensive X rear-facing, forward-facing, and booster] from different manufacturers does seem like a lot. Especially when they'd like nothing better than to sign up an exclusive deal with one car seat company, and sell officially approved $100 car seats for $500 at the dealership. Like Volvo.
And one could make an argument for that, or even that designing the equipment that ensures the safe transport of infant and child passengers as required by law should be the carmaker's job. But that's not the world we live in.
No, we live in a world where Honda, Suzuki, Hyundai, Isuzu, Kia, Nissan, Subaru--and Aston Martin, Ferrari and Maserati--have hired someone to say that, when defining "a good fit" for car seats,
The use of pool noodles should be permitted, if allowed by the vehicle and CR manufacturer. The Child Passenger Safety manual should also allow the use of pool noodls in these circumstances. The use of such devices has become a common practice and should be recognized by the agency. The agency should recognize this situation by including a note on its website that pool noodles or similar devices may be needed to assure a proper fit for some CRs.
Automakers also want NHTSA to keep this car seat fit data far away from the agency's annual safety ratings for new car models, maybe even on an entirely different website. lf that doesn't fly, then at least "provide clear explanation that the fit information has no relevance to CRS's crashworthiness performance."
I'd give up and walk away, but I have a feeling that's exactly what the Global Automakers wants.
Comments on Child Restraint Fit Information Program [globalautomakers.org via dt reader dt