Because any time I hear someone warning me about the evils of fluoride, I check my wallet. I mean, my wallet-sized map of southern Utah, because I wonder if I'm in one of those towns where people keep watch nights, waiting for the black helicopters to come stealthing over the hill, and to paint laser sights on the foreheads of the poor suckers whose mouths are so jacked up with fluoride, they glow on the UN peacekeeper's scopes.
I guess what I mean is, I was surprised when K2's dentist told me that she should switch to a non-fluoride toothpaste. Kids who don't spit out their toothpaste might be getting a fluoride overdose, she said. In fact, it's become such an issue these days, she said, the EPA has ratcheted back the fluoride levels in the water. There's just too damn much of it. Causes fluorosis, permanent white splotches on the little brushers' teeth.
Is this for real?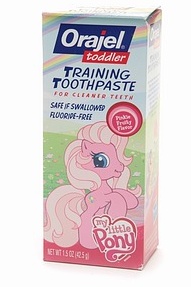 Pretty much, yeah. HHS proposed to cut recommended water fluoride levels from a range of 0.7-1.2 pmm to the lower limit, 0.7ppm in January 2011. The proposal is based on a review begun in 2006 by the EPA of fluoride and fluorosis studies, which, apparently for the first time, looked at overall levels of fluoride ingestion, not just water. And when kids swallow toothpaste, their fluoride levels increase.
All well and good, I suppose. But though the American Dental Association promptly wet its pants with glee over the HHS announcement, the Toothpaste Industrial Complex is dragging its feet. The only fluoride-free toddler toothpaste we could find has My Little Freakin' Pony all over it and tastes like corn syrup. Not helping.
HHS and EPA announce new scientific assessments and actions on fluoride [hhs.gov]
Fluoride Risk Assessment and Relative Source Contribution [epa.gov]
Orajel Toddler My Little Pony Training Toothpaste 1.5 oz (42.5 g)