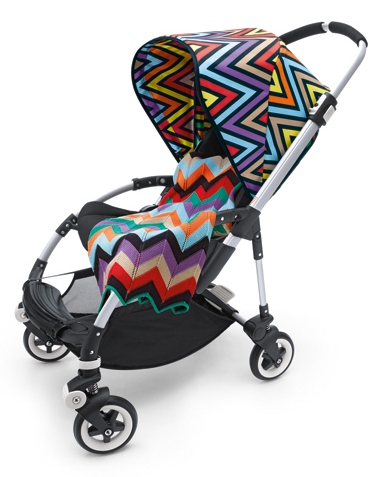 Let's get this out right up front: the new Bugaboo X Missoni strollers look fantastic.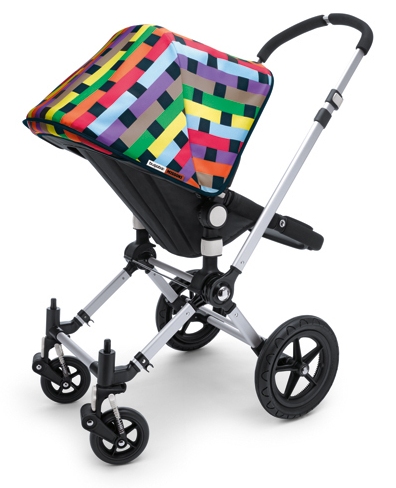 Now I'm normally opposed to fashion designer stroller colabos on principle. On several principles, actually, none of which apply in this case. Let me explain why:
From their original limited edition Kate Spade and through to their Stella McCartney and Burberry and whatever the hell else, Maclaren has used basically used fashion colabos as an exclusionary, gendered marketing ploy, forcing a direct fashion/function, female/male tradeoff by slapping designer signatures on bridge line strollers.
Around the same time, meanwhile, Bugaboo was launching their Bugaboo By... collection. And to their credit, the only tradeoff they were floating was your money for a WTFCrazy whiteout smurfmobile painted by some Dutch Fashion Ministry posterboy. Good gravy.
The Henrik Vibskov x Quinny Buzz was clearly marketed as a women's fashion WTF, but once you got rid of the garden gnomes in the ad material, you were left with a sweet matte black stroller in a slightly over-the-top outfit. The problem was, Quinny has no brand to riff on, necessarily, and also, who the hell is Henrik Vibskov? So no.
The Marc Jacobs Bugaboo caught the matte black fever, and for that, I was happy. An all-black Bugaboo was long overdue. But with only 15 strollers released worldwide, it existed purely as a marketing/PR stunt, not in the real world. And as for the obnoxious signature fabric design, well, let's face facts: he's no Fendi.
Missoni, finally, seems like a much better choice for a colabo. Pattern is about as much as you can do to a stroller without ruining it, and pattern is what Missoni does. That, and knit, and the knit blanket feels logical in ways that a puffy, Burberry check footmuff does not.
With the proliferation of sophisticated high-end strollers, Bugaboo has shifted from being a technology/performance standout to a design/brand--and I guess I should say it, fashion--choice. So it's nice to see them finding the right type of partner who fits with their brand. Available at a flashy mall [Neiman Marcus] near you.
Bugaboo Missoni [bugaboo.com via design-milk thanks dt reader jennifer]