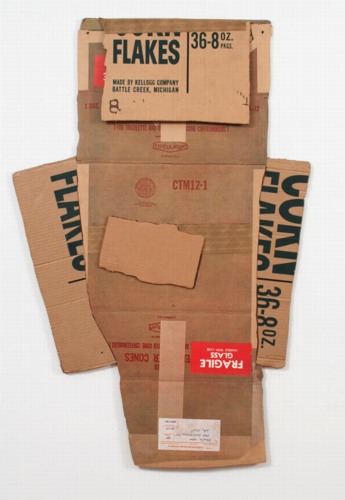 Cardbird I, Robert Rauschenberg, 1971, ed. 75, image baeditions
Oh, man, welcome to this installment of Dutch Conceptual Beddengoed.
I've been looking at a lot of Robert Rauschenberg sculptures lately for the other blog, and so while I was surfing across the Dutch kid fashion site Buijses + Beugels just now, I was like, "whoa, those sheets look like the Cardboards Rauschenberg did in the 70s, which were basically cardboard boxes unfolded and collaged on the wall. More interesting than it sounds.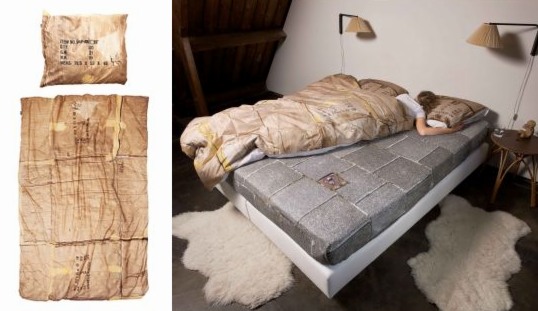 And I'll be damned if that's not exactly what it is. Le Clochard is a photo-printed comforter cover and pillow set that reproduces a gnarly cardboard box. And the Dutch company, Snurk Beddengoed, also has a fitted sheet, Le Trottoir, that looks like a paving stone plaza, to complete the homeless experience.
I realize they donate most of the proceeds from these sheets to homeless charities, but I still find this utterly bizarre. And I'm a guy who travels across the country to see 40-year-old cardboard boxes on a museum wall.
On the other hand, they're on sale! Le Clochard bedding 54.95EUR 38.46EUR [buisjesenbeugels.nl]
Le Trottoir, 39,95EUR [snurkbeddengoed.nl]