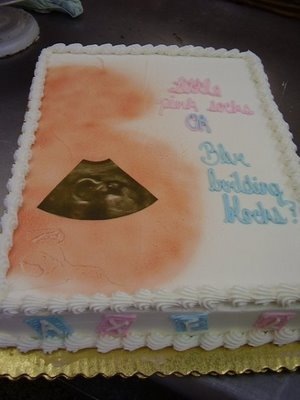 "Little girl socks or blue building blocks?"
The pink ruffle hegemony, 600,000 aborted girls/year in India, cake-based gender reveal parties...
Oh, ultrasound, is there any prenatal cultural disaster you're not responsible for?
Seriously, people. Gender cake parties. Where you give the sealed results of your ultrasound to your baker, who bakes your kid's gender into a cake--pink for girls, blue for boys--for you to cut into and discover. Together. With friends and family assembled.
In our childbirth class at the hospital, there was one half of one couple who did not know the gender of their fetus--the dad knew, and was not telling the mom, even though he was kind of hinting at what it was to any and everybody else. It was the poorest judgment I've ever seen applied to the "do you find out?" decision1 issue--until now.
Let Them Eat Baby! The Terrifying New Practice Of The Cake Gender Reveal [theawl]
285 results and counting for "Gender Reveal" [youtube]
Womb With a View [top image via cakewrecks]
1 obviously does not compare to gender-based fetal culling on a continental scale.