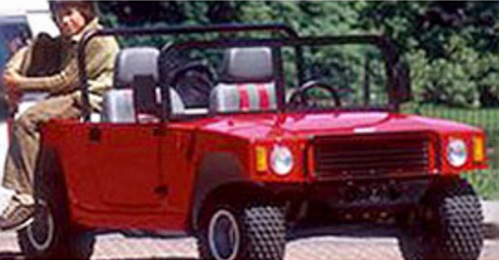 We haven't talked about Posh Tots around here much lately, probably because, well, why would we?
Anyway, DT reader/hero DT spotted this incredible [sic] Child's Off Roader for sale, for just $32,350. Can you imagine? You might have to, because the only picture looks like it's been ganked from Compuserve circa 1994:
The mini Off Roader is built for fun and speed! Capable of 30 miles an hour and very easy to operate; most children get used to it during the first few minutes of driving. Equipped with a fully functional radio and tape deck that is removable with speakers on both side doors. Also includes turn indicators, head, tail and brake lights. It has an all-weather, high-density fiberglass body and upholstered leather adjustable seats. Gasoline powered, electric starting, three gear shift modes and Briggs & Stratton 9HP, Vanguard 296ccm. Recommended age range is 7 to 12, but depends upon child's ability and should be carefully considered. This mini Off Roader will have your child racing to the neighborhood finish line!

This item is custom made especially for you upon order and cannot be returned.
Ooh, a tape deck! If you are "carefully considering" putting a $33,000 modded golf cart in your shopping cart sight unseen, we really should talk. I am absolutely certain I can help you do better than this.
Child's Off Roader, $32,350, 8 weeks delivery [poshtots.com]