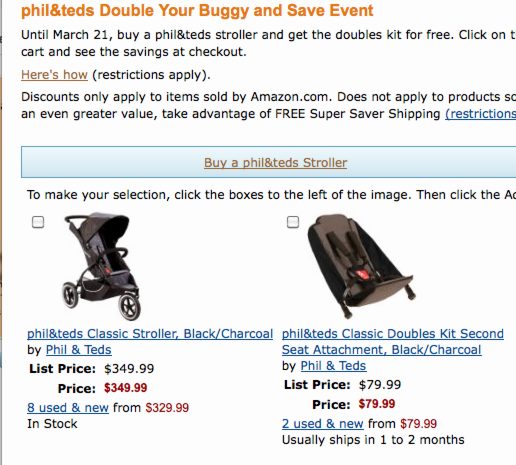 Maybe it's because spring is in the air, and peoples' (and marketers') thoughts naturally turn to new cycles of reproduction. Or perhaps the news of recent recalls have bitten off a chunk of sales.
Either way, there are only two things for sure:
1) Phil & Teds is having a Double Your Buggy And Save "event" on Amazon through March 21st, where the purchase of any phil&teds stroller gets you a free doubles kit. The $79-109 discount applies to all models sold by Amazon, and is taken at checkout. See models and details here.
2) It is really hard for me to pimp strollers, even innovative and very popular ones that really do help urban parents of two cut a skinny swath through crowded city streets, without making wisecracks about recalls and finger amputations.
Not funny, people! This will cost me some Amazon kickbacks!
Buy a phil&teds stroller for $349-699, get a free double kit, a $79-109 value, through 3/21 [amazon]