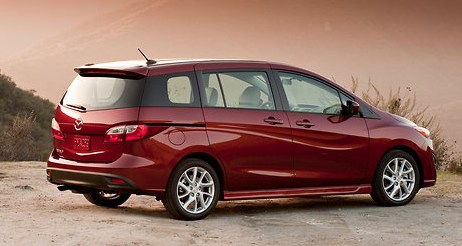 Mazeltov to the Richard Changs, who have a new daughter--and who get to test drive minivan life for the New York Times, beginning with the new Mazda 5. Which Chang hates on the outside--the former Mazda CEO's pet swoopy design language, Nagare [nah-gah-reh, it means flow in Japanese] is apparently dead on arrival, soon to be replaced by the next suit's brilliant idea. But inside, it's another story:
I was overjoyed when I slid open the side panel door, revealing ample room to install the car seat easily on the second-row bucket seat. The stroller base fit in the cargo area behind the third row. (The 5 seats six, two seats in three rows.) And with minimal fuss, our small family was off to the outlet mall.
Ah, the outlet mall. Where city dwellers try to save enough money to break even on their Zipcars. The Changs were apparently there so long, they went through 38 diapers. Am I reading that right?
Anyway, Nagare complaints notwithstanding, with the stroller, the car seat, and the rear seats folding into a totally workable changing table, the Mazda 5 is the perfect new familymobile. And it's cheap, too. And gets good mileage. And it's slow. But then, remember, PRECIOUS CARGO ON BOARD!
Mazda 5 Is Ready for Parenthood, Diapers Not Included [nytimes]