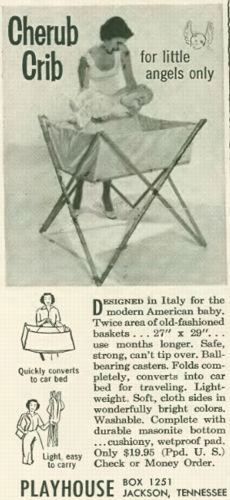 It's always good to tie up loose ends, close loops, tick off the open items, bring closure to--well, maybe when it comes to the Cherub Crib, closure is not to be too hastily wished for.
The Cherub was imported from Italy "for the Modern American Baby" by Playhouse, Inc., of Jackson, Tennessee, who advertised it in one of those little ads in the New Yorker ["converts into car bed for traveling"!]. Where DT reader Matt stumbled across it five whole years ago.
Now, thanks to Mondo Blogo's definitive review of the catalogue for the 2005 exhibit, A Misura di Bambini: Cent'anni di mobili per L'infanzia in Italia (1870-1970) [A Measure of the Child: 100 Years Of Furniture for Childhood in Italy], we know that the designer of the Cherub was Robert Mango. And that he also made the even pinchier-looking collapsible playpen, both in 1956.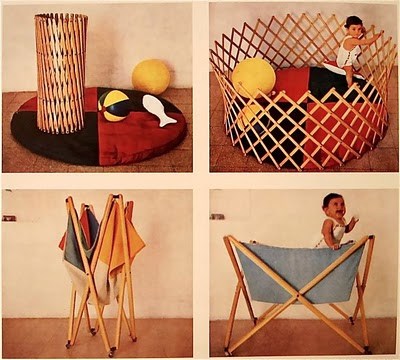 Of Mango, the net reveals very little, only that he appears to have been working with Osvaldo Borsani around this time, and exhibiting flexible, affordable furniture designs for compact postwar living. In other words, nothing we didn't already know.
But Patrick's got tons more photos from the catalogue, though, including a couple of pieces that are buried somewhere in the DT archives. Definitely check it out.
my bambino can kick your bambino's ass [mondo blogo]
Previously: Where'd the mid-century modern Cherub Crib go?