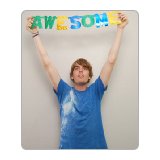 Awesome Awesome Books author/artist/ dad Dallas Clayton has shared his list of top ten children's books with the posh British mumblog Babyccino [which I assume is pronounced -chino, though I was confused because first read it as -cinco. But enough about me.]
The list includes interesting takes on classics, such as Richard Scarry's Cars and Trucks and Things That Go ["I'm surprised you don't see more people with tattoos of his stuff."], but my favorite is his description of Sylvester and the Magic Pebble author William Steig:
Reading Steig is like reading the Bukowski of kids books. His stories don't really try to teach you anything about truth or justice, they just tell you this really strange story, but it's so succinct and deliberate that you just feel like you are living it with him. Great stuff.
Eep, just the idea of a Bukowski for kids is making me lock my daughters up until they're 40.
Also, wow, those mumbloggers and their networky cross-promotion; I need a bunch more adorable, button-sized ads.
Dallas Clayton's Top Ten List [babyccinokids.com]