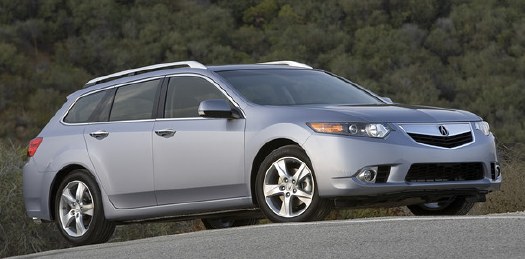 You'd think that after so many years of lamenting all the awesome, new family-friendly, station wagons that don't come to the US, automakers would wise up, or I'd give up.
In truth, it's a very little of both. The Acura TSX Wagon is an honest-to-goodness rebadge of a sweet European Honda Accord Estate, and it's here now. And according to Dan Neil, that is generally a good thing:
nd the car? Oh, excellent, thank you. If General Motors built it I would be expecting the Sun to turn to sackcloth and the fig tree to cast its untimely figs, for the End Times would soon be upon us.

...

If you've got $35,000 to spend on a wagon, this is the most wagon you can get.
Of course, he's also right that it'd be better with the TSX sedan's more powerful engine, and with its AWD system, it'd be flatout awesome. Maybe if just 4,000 of you a year buy the TSX Wagon as it is, they'll make it better for the rest of us later? Please? Thanks.
A Distinctive Wagon [wsj via dt reader and new wagon owner! rolf]