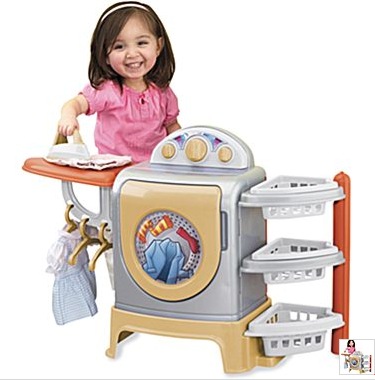 Hi, I just got back from schmoozing with the NetJetset in Miami Beach at the world's most money-soaked art fair, so now let me post the world's most depressing children's Christmas present!
Forget the gender stereotypes of the JC Penney's My Very Own Laundry Center, which is at least a step above the My Very Own Man Don't Like It When His Dinner Ain't Ready Kitchen Center.
If you're buying this because you're broke, and you need a huge toy for 67% off, just give her a roll of quarters instead. Then you can put the kid to work by taking in laundry. If she's old enough to sort pretend whites and colors, she's old enough to earn her keep!
My Very Own Laundry Center, was $29.99, now $9.99 [jcpenney.com via dt reader ponch]