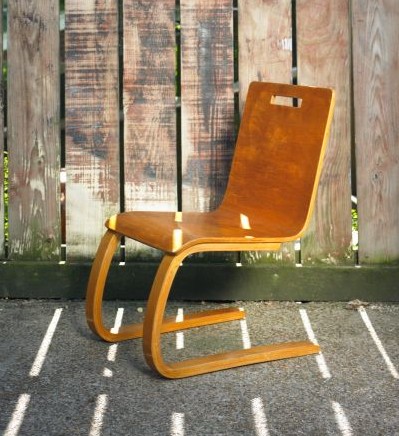 A nice-looking vintage example of Alvar Aalto's Child's Chair No. 103 is coming up for auction at Chicago's Wright20 next week. They list the date as 1930, but that's when Aalto made his first, related, bent ply and metal tube cantilevered stacking chair. MoMA says the child's all-wood version came in 1931-2.
In any case, the Wright20 chair has a Finmar label, which means it's from no earlier than 1934, the year Philip Morton Shand and Geoffrey Boumphrey's wholesale company began importing Aalto furniture to the UK. Isn't it ironic that the granddaughter of a pioneer of British modernism like Shand would end up marrying such a heavyhanded, anti-modernist meddler as Prince Charles?
While surfing around for comps, I found that Chicago vintage gallery Ubermodern sold a Model 103 chair that they said was made in 1936.
Hey, look at these scratches from the buckles of long-outgrown overalls, they're a perfect match! Too bad someone broke up the set...
Anyway, 1936, final answer. You can show that Camilla what's what on October 12. Bidding starts at $1,000.
Lot 522 Alvar Aalto, child's chair 1930 (sic), est. $2,000-3,000 [wright20.com]
update: sold [finally!] for $1875.