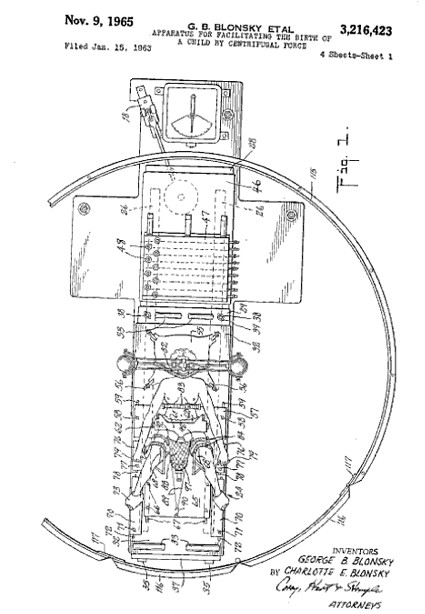 You know, to look at the extraordinarily detailed patent diagrams for George and Charlotte Blonsky's centrifugal birthing table [patent no. 3,216,423, granted Nov. 1963 that's a fence surrounding it by the way. It's a birthing cage.], you'd just have to wonder: were there any points in the invention process--say, when it became clear that the mom would need an elastic "pocket-shaped reception net" strapped between her legs to catch the ejected baby--that the Blonskys just stepped back and said, "Who cares if an elephant prepares to give birth by spinning around, this is just crazy!"?
Or did it all always make perfect sense, especially if you believed that:
In the case of a woman who has a fully developed muscular system and has had ample physical exertion all through the pregnancy, as is common with all more primitive peoples, nature provides all the necessary equipment and power to have a normal and quick delivery. This is not the case, however, with more civilized women, who often do not have the opportunity to develop the muscles needed in confinement.
Seeing as how the Blonskys won
a posthumous Ignobel Prize in 1999
for their apparatus, and the
Guardian was still marveling at it
in 2006, I--we--can at least take comfort in knowing we're not alone in being completely baffled.
APPARATUS FOR FACILITATING THE BIRTH OF A CHILD BY CENTRIFUGAL FORCE [google patents via dt hero naomi]