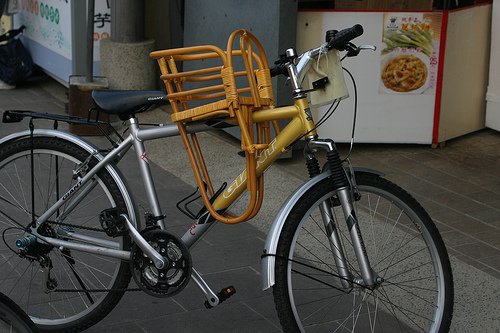 While trying to figure out the Taiwanese family bicycle world, I stumbled across this bit of bentwood awesomeness: a Thonet-meets-bamboo kid's bicycle seat.
Blogger AnMin spotted it last spring at a bike rental shop when the family went riding through the newly reopened Old Caoling Tunnel, a 2.7km trip through a mountain to the sea, a little soot-covered souvenir of Taiwan's days as a Japanese colony.
And seriously, about those Japanese. If you'll remember the story [retold here, and meant to be sung to the theme song from Gilligan's Island] of Charlotte Perriand and Bruno Taut visiting Kawai Kanjiro's bamboo furniture factory in 1941, looking for modernism-sympatico folk manufacturing techniques they could show off in Paris, you'll remember that Kawai imported [sic] his workers from Taiwan because they had the maddest wood bending skills.
And anyway, that's really not bamboo, but its close cousin, cane, with a woven seat. Which means I should probably change the title to something like, "Yes We Cane!"
雙鐵:福隆-舊草嶺隧道:路線探勘 [Family Fun Times, google translate]
Previously: Hey, Little Buddy! Mingei Bamboo Stool/High Chair