I've often wondered why more car companies don't get into the car seat business. Recaro is a rare example. And as auto hyper-expert and longtime DT reader David Traver Adolphus explains in an exclusive guest review, Clek is another.
David took a break from photographing and reporting on exquisite cars for Hemming's Motor News to share his story of his booster seat selection process and his five days-and-counting hands-on with the Clek Oobr booster seat. [update: I can confirm that, in fact, he completed all his pending assignments within the required timeframes and ably assisted several colleagues with their projects before he even began shopping.] Check back in DTA's photostream on flickr for more beautiful photos. Many thanks, congratulations, and best wishes for the growing backseat crowd:
Our own K2 is coming up fast, and fitting everyone into the Legacy wagon has been on my mind--neither our old rear-facing Graco Snugride nor Xavier's upright Britax Roundabout fit behind me in the driver's seat. As he's only a few pounds and about an inch from outgrowing the Britax, I thought it was a good time for a booster.
As a good DT reader, I was of course first looking at the European version Maxi Cosi Rodi XR, but it was going to be a pain getting one here. Major retailers don't ship car seats from Europe to the US, and when I found one who claimed they did, when I checked they said they really didn't. But when Greg started looking into the state of US vs. EU seats back in--holy cow!--2004, he didn't know there was a groundswell of resentment about the pitiful state of the US car seat industry building.
That movement culminated in the beautifully made, if increasingly pretentiously named, clek line. Magna Clek is the consumer products division of mammoth Canadian Tier 1 automotive supplier Magna International, and starting in 2006, they began offering their eponymous clek [sic] booster. That became the now-discontinued ozzi, followed by the olli, with a shortlived oto in there somewhere. All of those were backless, but distinguished by their shared rigid LATCH connectors, then unique among boosters.
The oobr, on sale since December, is their first highback booster, and the (detachable) bottom is indistinguishable from the olli: Crypton removable and washable fabric, molded structural armrests, integral frame. Among high style, impact conscious highback boosters, think of it as a car seat version of an actual Volvo, albeit maybe a Bertone Coupe.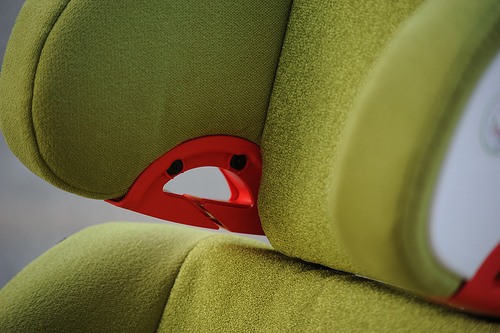 In five days of use, I have only one reservation, which is that the seatbelt placement can be sketchy for the smallest users. Since the seat portion accommodates kids up to 100 pounds, there's a lot of room there if you're only 40 pounds (although it's rated down to 33). For Xavier, that's a selling point, since there's room to move, and even to drive a little car around on the seat next to him. But he can shift his body sideways enough that the belt comes down off his shoulder. The lap belt, pinioned by the armrest, stays nice and low. It will be a stretch for short-armed people in tall cars to reach over and buckle the belt.
On the other hand, the deep wings and stiff foam of the headrest are outstanding. If he slept in a car, or anywhere, for that matter, it'd be awesome for that, and the seat reclines 12 degrees, to boot, but I was a lot more interested in side impact resistance.
If there's a tradeoff, it's weight. I haven't handled a lot of highback boosters and the 15-pound Roundabout is no flyweight, but I understand that 25 pounds is a lot. This thing is dense, and you can credit a steel headrest structure, magnesium frame and high-density plastic.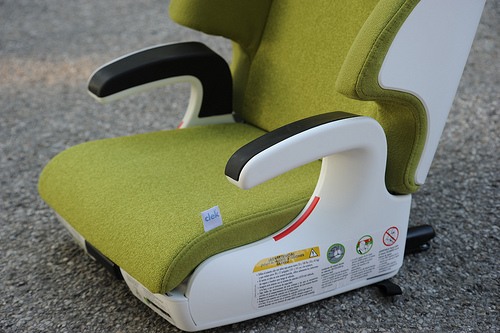 Canadian booster seat testing is broadly more comprehensive than American, and the oobr uses the excellent attachment of the olli, adding what I feel is the most elegant solution for upper body protection available. Magna is one of the world's largest manufacturers of automobile seats, and there is obvious cross-pollination--for instance, the headrest supports are clearly an automotive item.
The oobr is definitely pricey, but engineered up to a standard comparable with the best European seats, rather than down to a price. I should mention I also considered the Britax Parkway, and LATCH-equipped Britax Frontier Sunshine Monterey, and had the Parkway had LATCH it might have been a contender, but only the Frontier made the IIHS top picks in the USA. All of them are revoltingly ugly, though, and that and their puffy hugeness ultimately eliminated them from consideration. As the only other seat with bright (i.e., cool) fabrics and even a hint of style, Rodi XR was in it to the end, and if they hadn't dumbed our version down to US-spec from the EU version, I would have gone for it.

Notes for Greg: Duly noted!
Clek owners include Gwen Stefani, Courteney Cox and Jessica Alba.
Also: http://twitter.com/DENISE_RICHARDS/status/6341398023
Clek Oobr is available for $274 via Amazon, via DT sponsor EliteCarSeats.com [right], and, oddly enough, via EliteCarSeats.com at Amazon. [amazon]