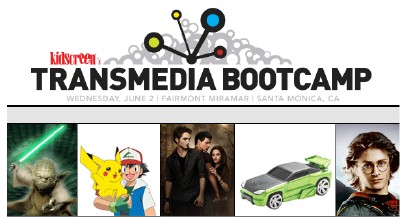 Kidscreen, the trade magazine for the kids IP industry, is holding the world's first ever, how-to confab for transmedia tomorrow in Santa Monica. It'll be led by Jeff Gomez, the high-powered, transmedia producer behind Starlight Runner Entertainment. The registration email teasers have been driving me crazy with excitement; you can take the dad out of business school, but you cannot take the business school out of the dad. Check this out:
Ever wonder what is at the core of massive hits like Twilight, Harry Potter and Pokémon that makes them connect so deeply with kids audiences? It's no secret. It's their aspirational drivers--which are kind of like the brains that control every aspect of a transmedia property.

Bootcamp instructor Jeff Gomez plans to fully decode about a dozen of the most effective ones for the first time ever at our event. Make sure your kids IP has the brains to survive and thrive.

...

Learn to build properties like George Lucas--only six days left!

FIRST YOU MUST UNLOCK YOUR UNIVERSE, PADAWAN...

An open universe is a story-building philosophy that lets key partners contribute new content to an established property under the watchful eye of a brand steward. George Lucas has been doing it for years, and it's the key to the market longevity that nearly all of his properties have achieved.

Learn how to build Lucas-like potential into your own brand plan by opening up the creative process.

...

STILL PITCHING LIKE IT'S 2005?
OUR BOOTCAMP WILL GET YOU READY FOR THE FUTURE!

Sign up and learn how to put together a cutting-edge pitch package that hits all the right buttons and gets your project greenlit by every media outlet and brand marketing partner you need.

PLUS, get the lowdown on new transmedia deal models that let you stay in full control of your property, while motivating your partners to work harder to make it successful at market.
The full schedule is here. And speaking of extensible transmedia franchises, I'd pay for the full day just to get a livetweet of the 3:15-4:15 Production session on "how to be everywhere at once."
Kidscreen's Transmedia Bootcamp, June 2, 2010 [kidscreen.com via awesome publicists]