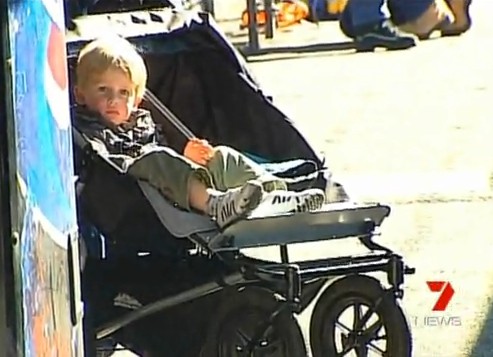 When they're not watching footie [i.e., rugby with less gentility and tinier pants], Australians pass the time either rolling strollers down sloped platforms into the path of oncoming trains, or watching CCTV footage of same.
Last week, it was a 1-yo at Melbourne's Tooronga station's turn. His 3-yo brother climbed out of their double stroller and distracted their grandmother at just the right moment, and--BAM!--the kid rode the rig onto the tracks just as the train was pulling in.
While he received points off for timing--the train was going pretty slow already, and the stroller only got dragged 8m--the kid does win for the minorness of his injuries, and for bringing the rig in almost completely unscathed.
The kid's 15 months old, which means his tank-like Mountain Buggy double was almost certainly produced in New Zealand, before Phil & Teds bought the brand out of bankruptcy last March.
Which means folks wanting to see how the new Chinese-made Mountain Buggys perform under trains will have to wait. But probably not too long.
Baby escapes death after pram struck by train in Tooronga, Victoria, Australia 26/5/10 [youtube via @mclayfield]
Driver lucky? Kid lucky: Driver lucky to pull up in time to avoid pram [abc.net.au]
Previously: Was That Kid Riding In A Love'N'Care Pram When He Got Run Over By That Train?