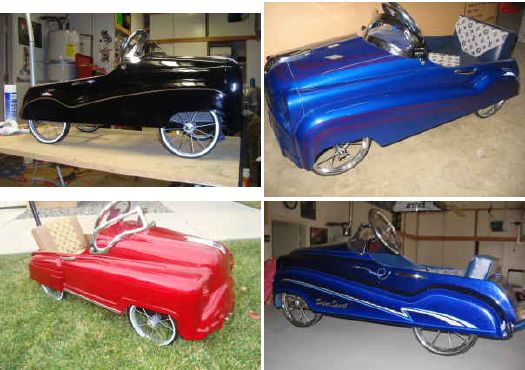 From Craigslist in Corona and LA, a little something for rolling on the 3-0:
CUSTOM MADE TODLER STROLLERS THESE ARE ALL METAL BODY'S WITH CUSTOM PAINT JOBS AND CUSTOM MADE INTERIORS LOOK AWESOME GREAT TO TAKE YOUR BOY OR GIRL TO THOSE SUMMER CAR SHOWS. PUSH STROLLERS EMAIL FOR MORE INFO. THESE ARE THE ONLY KIND STYLE BODY I HAVE. PRICE IS FOR EACH TAKE ABOUT 2 TO 3 WEEKS TO MAKE
EMAIL FOR MORE INFORMATION
KEYWORDS IMPALA CAPRIVE CHEVELLE EL CAMINO NOVA FLEETLINE BEL AIR MASTER DELUXE MONTE CARLO REGAL CADILLAC MALIBU RIVIERA
I don't think there are any switches to be hit, but if you reinforce the rear handle, I bet you could get a pretty sick hop going.

LOWRIDER TODLER STROLERS - $400 (CORONA AND L.A) [via dt reader and brooklyn ex-pat melissa]