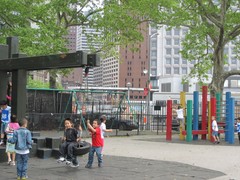 Big news! Frank Gehry is designing his very first playground! The city has flagged $4 million for the 1-acre project, which will go in at Battery Park City, according to an announcement from the NYC Parks deapartment--dated June 7, 2007.
Yeah. So. Three years later, Gehry finally presented a preliminary design for Battery Playspace to Community Board 1 last night. As DNAInfo.com reported, no actual plans will be released before November, but Battery Conservancy chairwoman Warrie Price assured the board, "They go whoosh, whoosh, whoosh."
DNAInfo also described the current playground as "stark," also "spare and outdated." But, they were forced to admit, "children still seemed to enjoy it Thursday morning."
The $10 million project, $5 million of which has been raised, is expected to be completed by 2012. Which gives plenty of time for financing to fall through, Gehry to be cost-engineered out of the project, and random local micro-starchitects to be brought in.
June 7, 2007: Frank Gehry To Design His First Playground At The Battery [nycgovparks.org]
Frank Gehry Designs $10 Million Playground for Battery Park [dnainfo.com via dt reader nelson, image: Julia Shapiro/DNA]