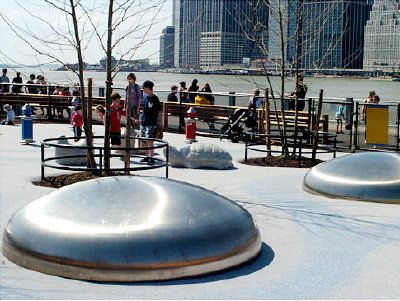 Look, I am truly sorry for all the kids who are getting seared on the giant Mongolian BBQ-themed playground equipment installed in the new Brooklyn Bridge Park.
But seriously, is there anything more laughable than the warning sign, saying the whole problem will be solved as soon as those shade trees fill in [in like five years]?
Or is there anything more absurd than the insta-tents that got installed within hours after the story hit the papers?
I didn't think so.
Parents fuming over Brooklyn's playground's 'hot' steel attraction [image: nydailynews via dt reader randy]
"But the trees didn't grow fast enough to muffle the screams" [brooklynpaper.com via curbed]