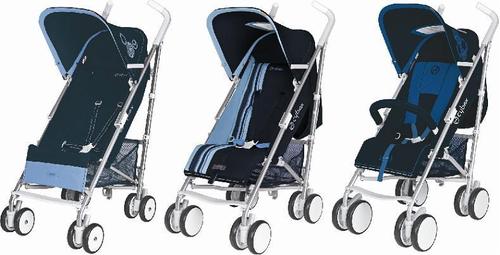 While it took Maclaren ten years and a million finger-munching strollers to earn a CPSC recall, Feisty upstart Cybex got theirs in less than six months.
Cybex was introduced to the US market last fall by Regal Lager, the distributor who built Phil & Teds' presence here. Though they've sold just 1,200 rigs since August, the hinges on Cybex's Ruby, Onyx, and Topaz umbrella strollers are already proving they can munch tiny fingers just as well as the market leader, Maclaren.
Well, almost as well. 1200 Cybexes have only fractured one kid's finger so far, while a million Maclarens have amputated at least 12. So while they lose in severity, they might make it up in frequency. Good luck!
Yes, there's a hinge cover kit available: Regal Lager Announces Recall to Repair CYBEX Strollers; Risk of Fingertip Amputation and Laceration Hazards [cpsc]