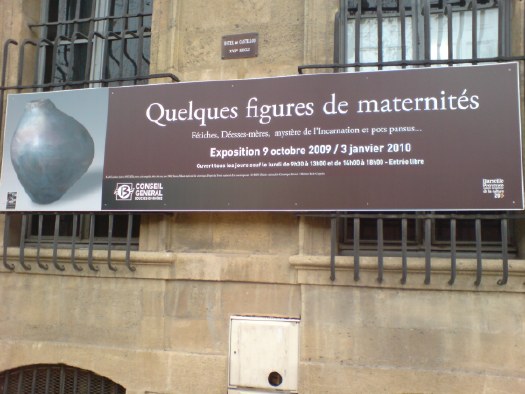 Well, we made it back last night without a hitch, it was pretty incredible, considering how screwed up our trip out had been. I'll probably do a roundup of notes and things that worked and didn't for traveling--flying with kids still feels like a learning process and a major accomplishment--but meanwhile, here's a quick series of seemingly random photos from the trip:
[top] Alas, the Galerie d'Art Aix-en-Provence wasn't open when we went into town, so we missed "Quelques figures de maternités," an exhibition of fetishes, fertility statues, goddess mothers, paintings, and pots that celebrate "le cycle consacré à la femme." Maybe I'll pick up the catalogue next summer.
Pom'Potes. The last time we saw this packaging was in the frozen juice slushies section of a Tokyo convenience store. Turns out it works spectacularly well for French vending machine applesauce, too. Packaged food manufacturing conglomerates take note: I am available to discuss these important insights with you on your next applesauce design-related dadblogger junket, whether in Europe OR Japan. I'm flexible.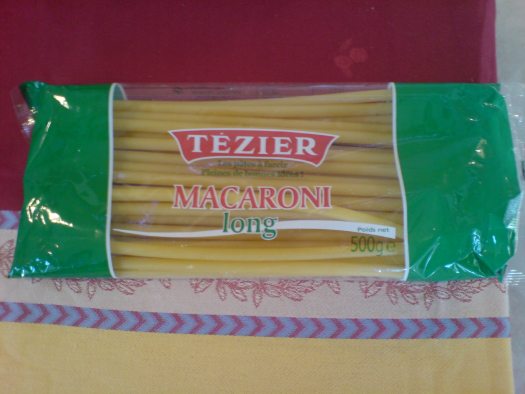 Macaroni Long: Technically, they're really perciatelli or bucatini. But as my Italo-phile brother-in-law points out, the French call every tube-shaped pasta "macaroni." I dubbed them anguilletti, because they look like a plateful of eels when they're cooked. Judging by the way the kids snarfed them down, though, they should probably be called Red Licorice Rope-a-roni.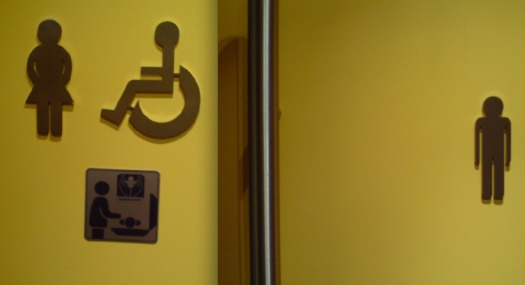 2010 should be the year I push the NYC Men's Room Changing Table Database/Map out of the nest as an open, crowdsourced project. I just don't hit the city with a diaper-wearer like I used to [and when I do, I usually don't worry too much where I change her]. Still, old datagathering habits die hard. And so the McDonald's in Pertuis [pop. 18,000], gets a big, fat NON. They get points back for the gender-non-specific, correct-perspective icon, though.
Barbe a Papa: At first I thought it was yet another example of French carnies' blatant copyright infringement, but it turns out Annette Tison and Talus Taylor took the name Barbapapa from the French term for cotton candy.
The pic I wanted but didn't get: the bouncy ride-on toys stuck in the carpet at Gate 16, directly behind the security checkpoint at Marseille Marignane, which now officially has the saddest airport playground equipment in the world.