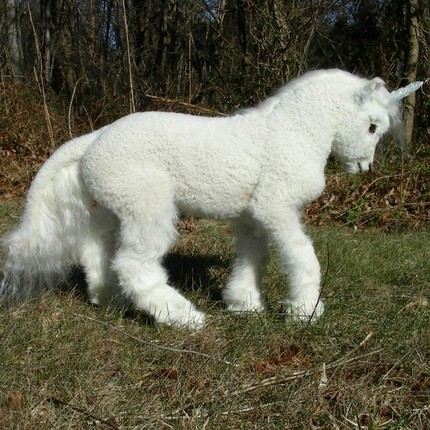 The last two times we've been to Costco [Sorry, Jim, I'm weak!], the kid has fixated on a horrible, awful, giant piece of crap toy horse that looks like the Budweiser Clydesdales. It doesn't rock, it doesn't look like it does anything except loom menacingly over whatever unfortunate child falls under its sway. Right now, the kid thinks she's saving up her money to buy one. Just 58 more dollars.
I just have to keep the kid off etsy. Because somehow, even though it's only half as tall, this taxidermy unicorn made out of a baby lamb is easily 4x as frightening:
***I AM MOVING AND WOULD NOT LIKE TO MOVE THIS SWEET BABY!
MAKE ME A REASONABLE OFFER AND LET'S MAKE A DEAL!
...

This is a CUSTOM mounted white unicorn. His horn sparkles with the shimmer of little rainbows from the inside out! His mane and tail blow softly in the breeze! He is attached to a base so that he will stand securely and not tip over. He was made from a baby lamb that died of natural causes shortly after birth. I crafted the piece into the likeness of a unicorn. No animal was killed for the purpose of making this mount.

...

RETURNS: I cannot accept a return on this item due to the fragile nature of taxidermy pieces. This unicorn will be packed for a ONE WAY trip!

UNICORN Taxidermy, mounted MAKE ME AN OFFER, $975 + 120 s/h
[etsy via
boingboing
]