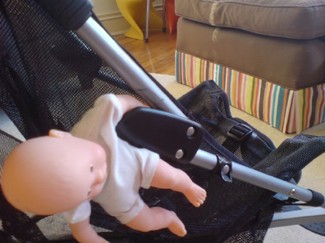 So clearly, the biggest stroller recall in history, of one of the most popular brands, for amputating children's fingers is a big deal.
But then you realize that the actual threat posed to your kid's future as a concert pianist is entirely within your control--just keep the kid clear when you open or close the stroller--and the threat passes. It's not like finding out your favorite pacifier is made with lead or something.
And so the questions start to percolate about how such a risk could go either undetected, unreported, or unaddressed for, what, ten years? Is that the right way to read this situation? And what about the rest of the umbrella strollers, aren't they a risk, too? Were the JPMA and other standards and safety organizations asleep on the job?
As it turns out, Maclaren USA's chairman Bahman Kia emailed me this morning, offering to discuss the recall and the company's response, both to date and going forward. [Looks like he's been making the blog rounds.] By the time Bahman Kia and I finally connected, I was pushing K2 home from the park--in our Volo. So yes, in a way, a Maclaren prevented me from taking notes or recording our chat. The quotes are real, but what follows is based on my understanding of the situation:
First up, it's not just Maclaren; any folding stroller with a hinge is prone to the same risk of pinching. As Kia put it, this is an "industry-wide issue," which Maclaren has "taken the lead to resolve."
The recall covers strollers as far back as 1999 because that's when the current Maclaren was acquired out of receivership by the current owner [US investor Farzad Rastegar, who technically bought it in 2001 from a fund he was affiliated with, which had purchased it in 1999. But close enough.]
But the hinge covers Maclaren developed--which are apparently fabric--should fit not just any Maclaren, but any folding stroller that has a hinge. One thing we didn't talk about: if this is such a universal safety issue for folding strollers--which all share the same basic design Owen Maclaren introduced 40+ years ago--have standards bodies in the US or UK ever taken it up? Did JPMA and ASTM discuss amputation risk at some point and just decide that is was a human error issue? Has anyone ever researched or proposed or even launched a non-pinching folding stroller? For all Maclaren's hustle to address this now, I still can't shake the feeling that this risk has been dismissed by the entire industry for years. Decades.
Anyway, Maclaren engineers have been working for "a couple of years" on a complete redesign of the folding mechanism, which precipitated a complete redesign of the entire stroller structure, and which the company will launch next year.
As Kia explains it, the redesign was part of a safety review of the entire stroller that began a couple of years ago, when an increased number of injury reports followed increased sales volume. Which I took to mean that most of the amputations and lacerations mentioned in the recall are recent, not that they've been watching them accumulate slowly and steadily, one or two each year or whatever.
I've filed a Freedom of Information Act request with the CPSC in an attempt to map out the timeline and assessments along the way for the Maclaren recall, but also to get a sense for the scope of the entire hinge safety issue. Hopefully we'll find out if the CPSC has investigated pinching and amputation risks before, or has logged similar injuries with other strollers. Then we'll have a better sense of whether this Maclaren recall is the iceberg or just the tip