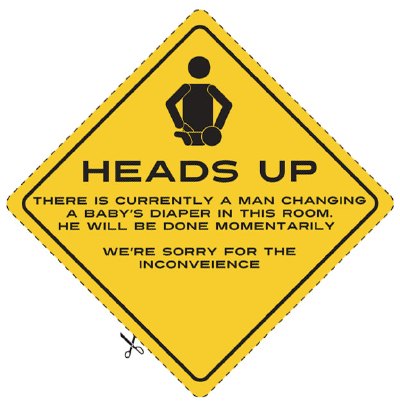 With his invention of this revolutionary, printable warning sign, Andy from NonToxicReviews has written a glorious new chapter in the history of the involved dad rallying cry, "The man who changes diapers changes the world."
Until he figures out how to attach it to the door, though, his mother-in-law still has to stand guard outside, but I think I have the solution, spotted yesterday next to the mens room changing table at a Target [the 4th gigantic suburban grocery store to have no canned pumpkin in the middle of freakin' pumpkin pie season, whatupwiddat?]: A customized HandyCone.
The HandyCone is spring-loaded and stores easily with an attached strap or, like I saw it, in a mountable storage tube right by the restroom door. Until restaurants and stores and such outfit their own womens' restroom entrances with HandyCones, the diaper-changing dad can simply pack a cone in his diaper bag or stroller. [It's available in two sizes]. Here's my crude mockup:
If I can see over the bathroom stall, it's only because I'm standing on the shoulders of giants.
Using the ladies room to change a diaper [nontoxicreviews.com]