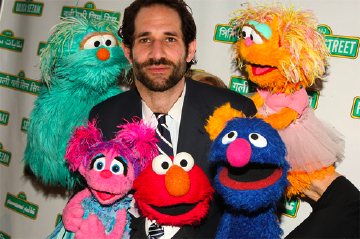 Shameless hipster muppetwhoring: it's not just for Kermit anymore!
From Hands In Orifices In The Workplace And Hey, Dov Charney! What's That Woman Doing Behind You? Journal comes this news: Sesame Street and American Apparel have teamed up to create a line of t-shirts using Jim Henson's original Muppet concept artwork to commemorate the 40th anniversary of the show. Grup sizes will come first, with kid-sizes to be released as part of a newly revamped AA Kids collection.
The odd press release makes it clear whose idea it was--also how many discs it takes to hold all of CTW's artwork:
Sesame Street, which for nearly half a century has made a mission of educating children in more than 120 countries, approached American Apparel earlier this year with the show's entire catalog of graphics. The two companies immediately connected over the different but passionate ideologies that drive them and set about working together.

"We sat down and went through eight discs of artwork from the Sesame Street archive and picked the ones we responded to the most. It took almost two months, but the end result is a cast of characters and images that bring a modern feel to Sesame Street and a heritage to American Apparel," said Carolina Crespo, a graphic designer at American Apparel.

The original artwork needed almost no adjustment. Drawings of the various Sesame Street characters were translated into line illustrations and printed on the dozens of bright colors of American Apparel t-shirts. The first four prints selected span the 1960's, 70's, 80's and 90's, and range from individual characters like a grumpy Big Bird to a picture of nearly the entire cast.
American Appalling: Dov Charney's Muppet Love
[jezebel]
American Apparel and Sesame Street Collaborate on Unique Line of T-Shirts
[prnewswire]
Previously:
Kermit, the totally washed up, whoring frog here