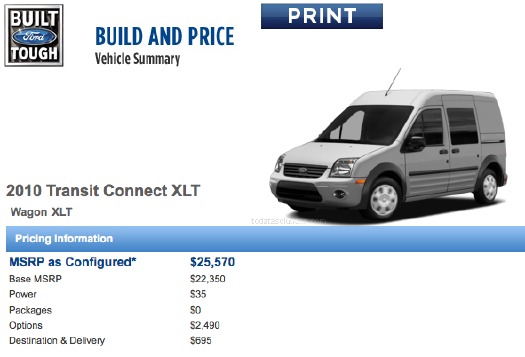 You know, I decided this won't be the third time I don't post something about the Ford Transit Connect, the mini commercial van/wagon that's been a big hit in Europe, and which Ford introduced here this year as a highly flexible, economical small business platform.
Seth mentioned theTransit Connect's general utilitarian awesomeness in the C-Max comments, and now I've had my Transit Connect Wagon XLT configurator open in my browser for like three days.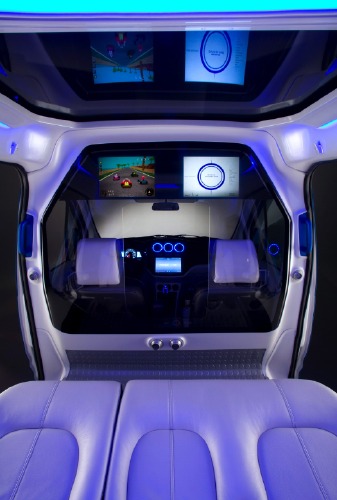 The Wagon is the non-panel van model, which gives you windows in the back, and the XLT is the only trim level that includes a 3-passenger 60/40 rear seat. Even if it isn't lined with glowsticks and flatscreens like the Family One concept Ford showed at the last NY Auto Show, the Transit Connect still might make a decent family rig. [Though you can see the temptation of the screen/soundproof partition combination. Also, I'd like an in-floor stroller hatch, please.]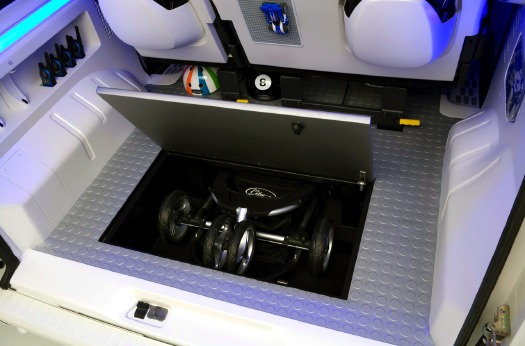 The options that are available are basically the onboard computer and Tool Link, a DeWalt branded RFID chip tool tracking system [total outlay: around $2600] which Seth wants to install on his kid and all the gear. But without the electronics, it is pretty hard to spend more than $25,000 on this little ride. Because Ford--am I reading this right?--because Ford won't actually start making Wagon XLT's until April 2010??
2010 Ford Transit Connect product pages [commtruck.ford.com]
Ford Work Solutions | DeWalt ToolLink [fordworksolutions.com]
New York Preview: Ford Transit Connect Family One Concept [autoblog]