Maybe I'm just oversensitive during the first few days in the deluxe SUV parade that is kid's new kindergarten pickup line, but I cannot get this spectacular 1975 Volvo C303 out of my mind. How utterly fantastic is this thing?
The C303 was Volvo's military vehicle, built between 1974 and 1980, and available in 4- and 6-wheel versions. [The 8-wheeler was shelved.] I know it looks as big as a Hummer, but it's actually shorter and narrower than a Range Rover--and 20 inches taller. This particular rig was brought over in 2005 with just 33,000 km and civilianized to an extraordinary-sounding degree, then painted Mercedes silver.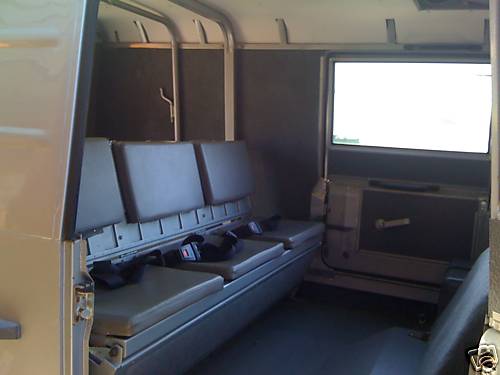 I'm sure you could just install some LATCH attachments there in back, no sweat. It probably has an arc welder built right in. Supposedly, it has attained highway speeds, but come on. Every second you keep this thing on paved road is an affront to its nature.
The seller's eBay description is a little hard to follow, so you'll want to cross-reference it to the comments on Bring A Trailer. I still laugh out loud like a schoolgirl when I read this one:
I'd love to see this thing driven by one of those super-aggressive way-too-serious peewee soccer coaches. The type of guy who'd hang a "Black Team" banner on it, park the thing right at the sideline, and just as the game is about to start, open the back doors and have the 9 year olds burst out of them like a squadron of crazed 4-foot Swedish commandos, screaming a war cry and striking paralyzing fear into all opponents (and their moms).

Just try and pull THAT off in your G Wagen, soccer mom.
Insanely awesome 1975 Volvo C303, current bid $17,500, auction ends Sept. 19
UPDATE: sold for $17500.
[ebay via
bring a trailer
]
Spotted in the wild:
Vince Sweeney's Treasury Of Volvo C303 Living
[real4x4.com]