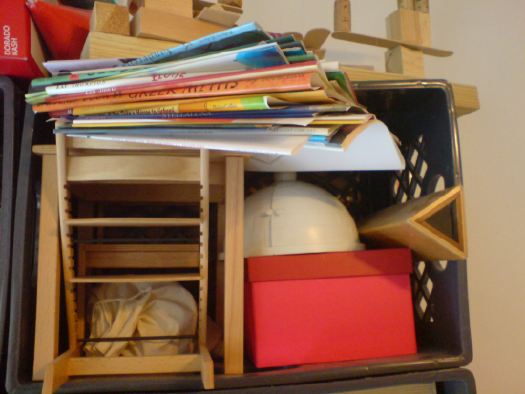 I know she's only been around for a year and a half, but it feels like we've been bogged down in a dust jacket war with K2 since the 1960's. Once she discovered books, her perpetual first action has been to strip the dust jacket off and leave it for dead. Then we'd--I'd--dutifully explain how we leave dust jackets on books, we take care of books, and I'd put them back on.
What a quagmire. No amount of negotiating could change her. So we got down our tattered copy of Henry Kissinger's Guide To Influential Parenting. There on page 335 was the answer: "The child wins if she does not lose; the parent loses if he does not win."
So we decided to win. We declared victory, and then we pulled out. Any time a book came off the shelf, we'd just take the dust jacket off and file it away on a higher shelf. Problem solved, or at least in the process of being solved.
Until K2 somehow figured out how to reach the dust jacket shelf. She just came running out of her room with a sheaf of dust jackets; I went in to find the whole pile strewn all over the floor.
So now they've been evacuated to the roof of the book embassy, where they await the last Marine choppers to fly them to safety.