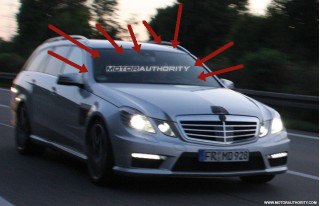 Thanks to some deep cover investigative reporting, which no doubt involved several highly uncomfortable exchanges over the Nurburgring's famous strudel--don't forget the cream!--Motor Authority has discovered that Mercedes Benz is indeed planning an AMG version of the new E-Class station wagon:
Despite current concerns about global warming and a possible end to the horsepower war between Germany's in-house tuners, the new E63 Estate will continue with the potent hand-built 6.2-liter V-8, as well as the same mechanical upgrades offered in the E63 Sedan.
Yes, against all the odds, they even managed to snap a few "spy shots" of the mysteriously camouflaged beast--see the bit of gaffer's tape right there where the 3-pointed star is thought to go.
As for a US-spec E63 Wagon:
"So far Mercedes-Benz has only confirmed the E350 Estate model for the U.S., however, if demand is strong enough hopefully the high-performance E63 family hauler will come too."
this sounds like a big, fat "NEIN!"
Frankfurt Auto Show Update: Looks like the E63 AMG Estate will be released in Feb. 2010--in countries where they call station wagons "Estates." Stiff upper lip, Guv'nuh!
Spy Shots [sic]: 2011 Mercedes-Benz E63 AMG Estate [motorauthority.com via dt reader dt]