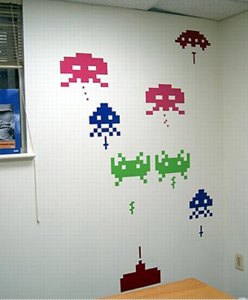 By now I think it's clear to all concerned that die-cut vinyl stickers are no mere fad, but are a new, enduring classic. And as such, they deserve a place alongside flocked wallpaper, supergraphics, rag painting and feather marbleizing in the pantheon of wall treatments that never go out of style.
Which makes it even more important for vinyl sticker makers to end their conspiracy of silence on one inconvenient fact:
As soon as they can reach'em, the kids will peel those damn things off.
So watch where you put'em.