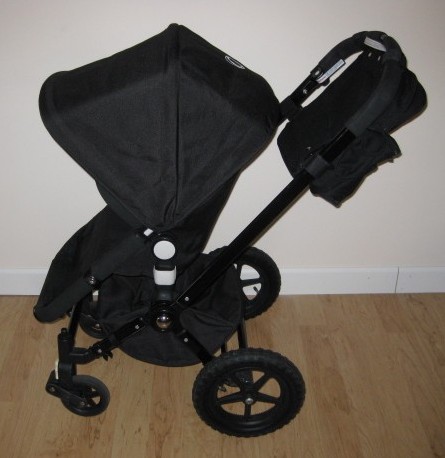 Hey-o!
Some dad--not just some dad, Bugaboo*Dad!--in Minnesota's powdercoating Bugaboo chassis and selling them on eBay. Says he'll do 10 of them, in either red or black, Frog or Cameleon. Takes around two weeks.
Since he's only selling the chassis--no wheels, seat frames, fabric or nothing--you'll basically need your own Bugaboo already--and then you'll end up with an extra chassis.
Though I'm partial to anodizing myself, I have to admit, these painted rigs look kind of fantastic. At $429.99 shipped, though, they sure don't seem cheap.
But then think about it: a replacement chassis retails for $300. Figure round-trip shipping costs of at least $30, and Bugaboo*Dad's basically charging $99.99 to disassemble, paint, and reassemble the thing. Sounds pretty fair to me.
You can offset the cost by selling your OG chassis for $80 on eBay. Wait, what? Maybe it's best to keep it on hand, at least until your warranty runs out.
CUSTOMIZED BUGABOO FROG/CAMELEON CHASSIS! , 10 available, $430 shipped [from bugaboo*dad on ebay]