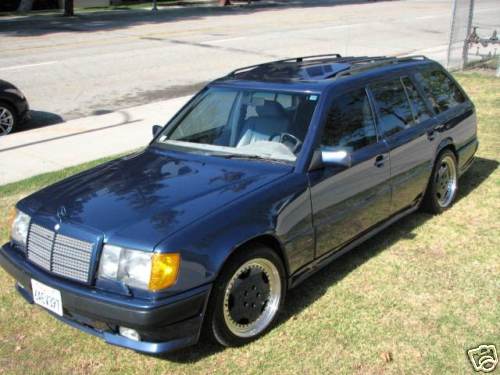 What does this New Depression mean in real terms? Let us consider the rare late-1980's Mercedes Benz, the AMG Hammer 6.0 Wagon, of which as few as a hundred may have been created, and which originally sold for around $160-180,000.
Last summer, AMG Hammer wagons of somewhat uncertain specification and provenance weren't trading on eBay at $48,000. This year, they're not moving at $25,000.
A guy in Canoga Park is selling an extremely low-km 1987 AMG Hammer Wagon, which he says he bought from former AMG N.A. director Hartmut Feyhl's tuning outfit RENNtech in 1996.
The description and condition all sound fantastic, or at least great. "I use the car once in a while when I need to take the kids somewhere and I need the seating for 7 it has the rear folding seat." And as the photo below shows, it can handle a car seat just fine.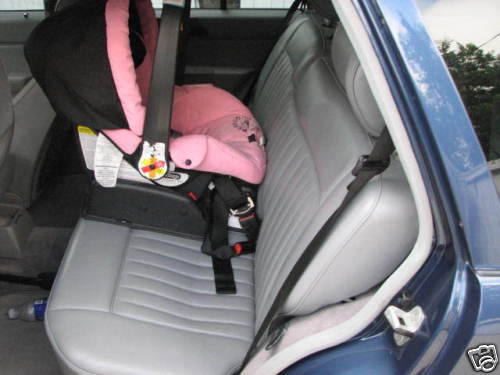 The armchair generals at Bring A Trailer take some issue with the supposedly Canadian car showing up with a VIN from a US-spec diesel, though, and the entire Hammer mythology makes it unclear to this amateur where the authentic/original tuning reality ends and the market-goosing cloning shenanigans begin.
For one thing, the seller is a dealer whose eBay handle, laexoticmotorcars, doesn't match most of the 80's Suburbans and 70's Cadillacs he puts online. He apparently had a 1987 6.0 DOHC Hammer sedan for sale on eBay last month, which included the following description,
IN 1988 I TOOK MY 300 TE HAMMER WAGON 6.0 TO THE STREET RACES PUT A BABY SEAT IN IT AND TOOK HOME $3000 FROM UNSUSPECTIONG MUSTANG GTS THESE CARS ARE NOT LIKE YOUR NEW E55S IN SPEED AND HANDLING, THERE IS NO TRACTION CONTROL.
So either this guy is a multiple, serial Hammer Wagon owner, or a slightly tall tale teller.
[update: sounds like the former. some users on this MBZ forum know the car, and the seller. Seems he has/had three "real" Hammers, a coupe, a wagon, and a sedan. here's a benzworld.org thread from March, too, from when the wagon was first listed on eBay. Sounds a bit harsh.]
Still, the thing looks freakin' awesome, and the idea of stomping on that 6-liter, 32-valve [aha, not the 16, perhaps he is The One after all]
V-8 on the way to preschool pickup, then sedately touring home, makes me kind of giddy. So does the idea of $17,000 engine service visits. The Bring A Trailer guy said it best: this is "the most powerful wagon in the world, and [it[ can blow your wallet clean off."
the eBay item title equivalent of de-badging: 1987 Mercedes-Benz, ends july 15 [ebaymotors via dt reader dt]
That's more like it: Über Hauler: 1987 AMG Hammer 6.0 Wagon [bringatrailer.com]