On my first trip to Las Vegas, I was 17. Some SoCal BYU dorm mates and I Rat Packed it down there from Provo for a weekend. And so it was, that I found myself at 3 o'clock Saturday morning, drinking a Kahlua and mostly milk in my matching thrift store dinner jacket, frittering money away at a two-dollar blackjack table at the Flamingo Hilton and watching as an obese old cowboy tried to seduce the lady sitting between us: "Baby, I got a hundred thousand dollar motorhome."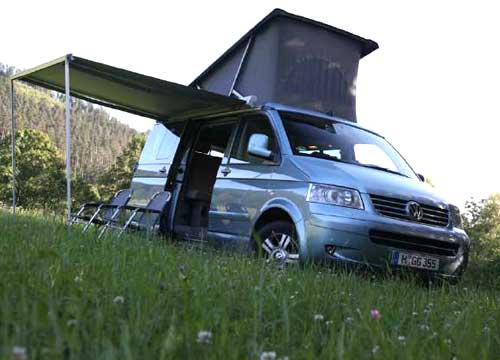 Which really has nothing at all to do with Dan Neil's flat-out awesome review of the Europe-only VW California camper van. Neil is blown away, and rightly so, by the T5 van's hand-crafted interior; its gracious honoring of the Westfalia minibus tradition; and the totally decent performance of its diesel engine. And he's baffled and outraged, and rightly so, that VW has a whole slate of vans--including one named California--which it doesn't bring to the US; instead, we're stuck with the embarrassing, hamstrung, rebadge fiasco, the VW/Chrysler Routan. [Neil's review last month of the Routan is sweet, btw.]
No, nothing to do with it at all. It's just what pops into my head whenever I see, hear, or type the word "motorhome."
VW California Biker: a dream van come true [latimes]
der California: Ihr Zuhause ist die Welt--the world not including the US, that is [volkswagen.de]