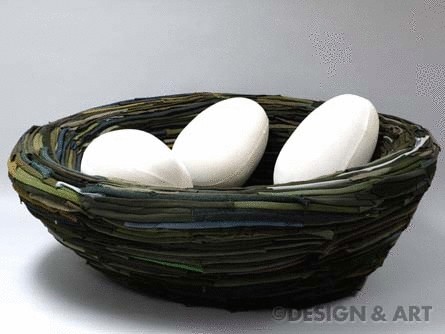 You may know the Italian furniture company Poltronova as the one-time manufacturer of sofas shaped like giant baseball mitts.
So you may not be as surprised as I was to find out that they produced Gianni Ruffi's La Cova, aka El Nido, aka a freakin' giant, nest-shaped, foam daybed covered with strips of fabric and equipped with egg-shaped pillows.
According to Wright20, where a single-egg Cova from 1973 didn't sell last spring [est. $50-70,000], only six examples are known to exist. Presumably, the three-egg nest above, for sale in Austria at Design and Art, is one of those six.
La Cova, Gianni Ruffi, c. 1969, price on request [designandart.at]