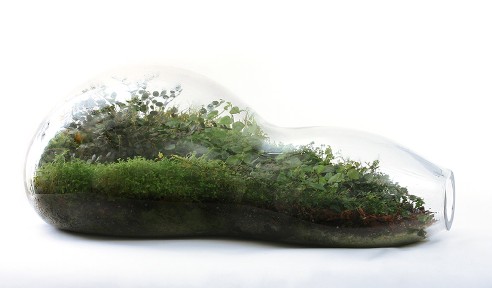 Switching to BPA-free bottles was easy; the Born-Free nipple and valve system actually has a really good flow which K2 took to very well. We started by test-buying a Born-Free glass bottle because a) the plastic bottles have this dingy brown tint that makes you look poor, and b) there weren't any plastic bottles anyway because it was the height of the Great BPA Panic of '08.
The glass bottle worked just fine, though, and felt substantial and old-school, not fragile in any way I'd feared. So we got a couple more. Then the plastic bottles were back in stock, so we bought a pair of those, too. You know, so we wouldn't get mugged on the subway.
One unforeseen consequence of the glass bottles: their weight kept K2 from learning to hold her own bottle for several months. Even when I tried to explain to her that this time, it's a plastic bottle, she could hold it just fine, she defied me.
Still, once she learned to hold the bottle, she did so very well. Thus is was that, during a trip to the outlet mall with her mother and grandmother one weekend, K2 threw the bottle out of her stroller and it shattered on the sidewalk. Whose bright idea was this, anyway, to make heavy, dangerous projectiles for babies? That could've been my head!
And so then there were four. And there have been four bottles for a couple of months now, and it's fine, although the glass thing, combined with K2's since-improved throwing thing, and her running thing means we only really use two, the plastic bottles.
Which brings me to the whole point of writing, which actually had nothing to do with BPA or flacking for Born Free. It was just set-up, because it's been a week, and we can't find the other plastic bottle. Either K2's stuck it somewhere, or we've put it in some bag or some pocket somewhere--it's definitely somewhere.
K2's resisting, but we're trying to make the transition to milk in cups anyway, so it's not like we need it, but I'm still getting more worried every day. Not that we won't find it, just how disgusting it'll be when we do.

Buy your own Born Free 9-Ounce Wide Neck Bottles Twin Pack at Amazon [amazon]
image: Paula Hayes terrarium ganked from somewhere