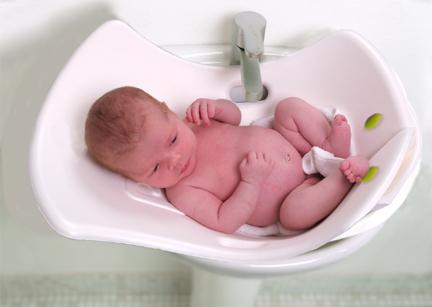 Ooh, that's nice. The Puj tub [rhymes with judge, fudge, kludge, nudge, smudge--whoops, got carried away there. I blame the kid and her infernal car ride games.]
Anyway, the Puj tub is an ingeniously shaped and scored foam sheet that origamis up and fits into your sink. Assuming your sink is one of those typical bowl-shaped sinks, that is, and not some fancy pants square basin, or some tricky, artsy fartsy Washing Experience kind of sink. Or some deep, industrial steel sink, like ours.
When I first saw the picture, I thought it might be that kind of foam they make boat key chains and Greek Week beer cozies out of, but I think it's just the kind they use for alphabet floors and floaty bath letters.
Either way, it looks plenty durable enough to last as long as you'll need a sink-based bathing solution, which is usually the few months until the kid can sit up.
Then you can put it away and forget about it, unlike the giant plastic baby tubs, which are in your storage face all the time, reminding you to either put the damn thing on craigslist already, or get busy and have another kid, whatrya waiting for?
Puj Baby Tub, $99 direct [pujbaby.com via junior society, whose working a 20% off deal with Puj through July 17. Click over for the promo info. thanks dt reader eric]