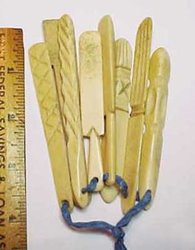 Andy posted photos of one of the things he didn't win on eBay recently, maybe because it's gross: a collection of circa 1850 baby teethers carved from cow bone.
Or maybe he didn't win because antique baby teethers are such a hot "go-with" for ardent antique baby bottle collectors, of whom there are many. Writing in the Fall 2005 issue of Bottles and Extras [pdf, the official newsletter of the Friends of Historic Bottle Collecting, noted baby bottle collector Charlie Harris of Ooltewah, Tennessee wrote:
As we all know, with any hobby there are numerous go-withs that are also highly collectible. In our hobby of baby bottle collecting there are baby rattles, baby feeding cups and dishes, infant or invalid feeders, photos, magazine advertisements, and baby teethers. It seems like this list can go on and on.

I'm going to try and enlighten "y'all" on a special class of teethers...

[several paragraphs about God, cavemen, and teething omitted]

As I have found out by observations and by talking to collectors at both baby bottle and Civil War shows, it seems that these teethers come from two major sources. The first of these sources is that they were made by
sheesh,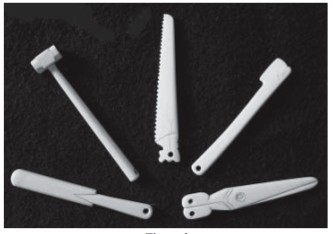 Bottles and Extras
pays by the word, I guess? Harris says they're bone or ivory, as often French or British as American, and made like scrimshaw, by bored sailors, or by bored POW's. Except when they're made by anyone with some bones and a crying baby, like the teethers shaped like carpenter's tools which, Harris says, "were either made for a boy child, or, in my opinion, made by a carpenter for his child, whatever its sex. You know us men; we don't know much about those feminine things that the girl children would play with." Mhmm, moving on.
The title of Harris's article was "Teething Sticks." The rather exhaustively researched History of Dummies at the British Baby Bottle Museum also calls them "gum sticks," and notes that they were also made from red coral, which was believed to have curative powers. The history also notes that as recently as 1905, teething was the officially recognized cause of death for a whopping 2,000 infants in England. How many of them choked to death on their gumsticks, we'll never know.
c1950 cow bone baby teethers [reference library]
Dummies, Pacifiers, Soothers, what's in a name? [babybottle-museum.co.uk]