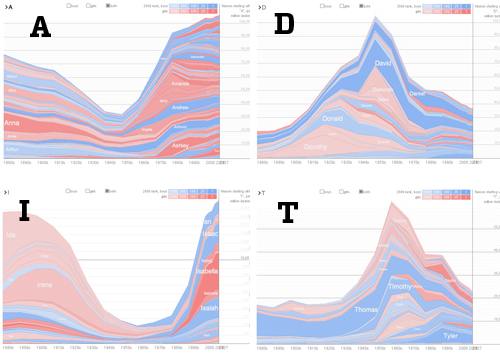 Looks like someone at Wired just discovered Baby Name Wizard. There are two articles this week featuring sociologists talking about baby naming trends. But none of the explanations and blanket analysis is as persuasive as seeing the raw data. Check out the hundred-year cycles of names beginning with vowels to names beginning with hard consonants, for example, all you parents of Emmas, Ethans, and Olivias. And then take a gander at 20-year heyday for Tricia, which spiked in the US in the mid-1960s.
If there's anything to glean from the articles, it's the double-edged sword of uniqueness. On the one hand, I don't think people doing their shopping in the Social Security Administration's annual top 100--i.e., at the baby name equivalent of the Gap--are all that concerned with uniqueness; they want a nice-sounding name they like.
And on the other, there's the extrapolation fallacy that any one person--a uniqueness-obsessed mom-to-be writing for Wired, for example, who says, "Now that everyone relentlessly Googles baby names, parents have no excuse if they saddle their kids with the most popular names."--is representative of the entire population. Because I don't believe everyone does Google baby names relentlessly, any more than "everyone" scours genealogy records for an ancestor they know nothing about, except that he has a nice-sounding name.
Why Your Baby's Name Will Sound Like Everyone Else's [wired]
Baby Names Quantify the Faddishness of Fads [wired]