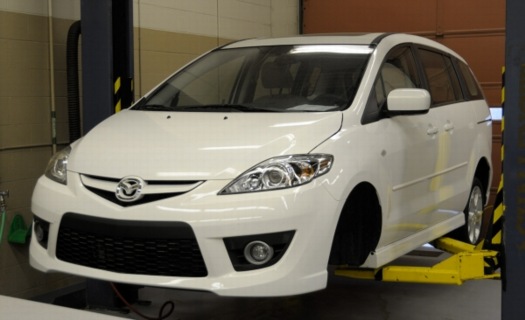 You'd think that after burning a year or two on my own cockamamie projects here and there, I'd have had more empathy, but no. I kind of mocked the Car & Driver guys for taking so long on their Boss Wagon project: turning a 153-hp Mazda 5 into a screaming, 253-hp Mazdaspeed 5 by transplanting the turbo-charged engine from a Mazdaspeed 3 into the awesome-but-slow minivan.
But now that they're more or less done, and I read about the cascade of unforeseen complications that turned "a simple engine swap" into an eight months--and counting--ordeal involving college shop classes, onboard computers, rewoven electrical harnesses, and relocated injection systems, I have to apologize.
Apologize and congratulate them for managing to shave a whole 1.7 seconds off the stock Mazda 5's 0-60 time. That Mazdaspeed 5 is a jackrabbit with sliding doors where its ears should be.
Return of the Boss Wagon: Mazdaspeed 5 - Project Car [caranddriver.com via dt reader cameron]
Previously, July 2008: the Boss Wagon is back! And it's a Mazdaspeed 5!
Feb. 2009: Or at least they said it would be, if it's ever finished