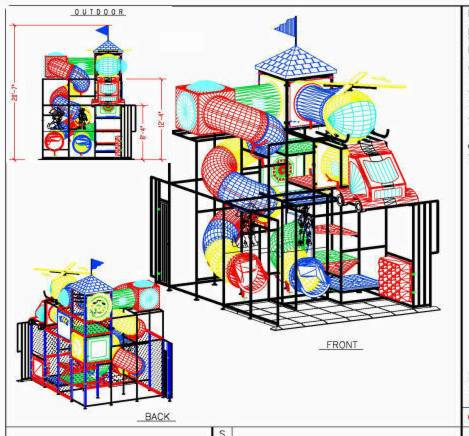 Did you know that those Habitrail-like indoor playgrounds made out of plastic tubes and padded pipe were invented in 1982 by Jack Pentes? And that his soft modular play [SMP] solutions alleviated baby boomers' fears of letting their kids play outside, out of line-of-sight, or in places where they might fall, falls being the leading source of playground injuries at the time?
And that Pentes declined to patent his SMP idea, which helped fuel the growth of the Family Entertainment Center [FEC] and Child Entertainment Center [CEC] industries in the late 1980's, typified by Chuck E. Cheese and Discovery Zone, respectively?
And that by the mid-1990's, people in the FEC/CEC industry were finally noticing that all SMP--which had since been redubbed SCP, for Soft Contained Play--did was give kids a place to run and scamper, which got boring after about ten times, and damned if parents're gonna trek to some strip mall and pay $7 bucks a head for their kids to whine about how bored they are, when they could do it at home for free?
And so in 1997, barely a year after the first McDonald's installed its first SCP system, articles were appearing in trade publications wondering, "Is Soft Contained Play Dead?"? And that from there, it pretty much was, because Discovery Zone went through a series of frantic mergers and bankruptcies, as the pay-for-play business model was basically sunk by pay-for-Happy-Meal-play-for-free? And that that's how we've ended up where we are as a culture, negotiating with our kids to trade a mindless 10-minute scamper session for their immediate obedience ["Finish your McNuggets or..."] and/or incident-free company ["After I'm through at Hot Topic..."]?
Yeah, me either.
Sometimes, I'll be sitting there in Chick-fil-A along I-95, with the world's least accurate clock counting down in my head ["five more minutes! ... two more minutes!"], and I'll try to imagine the XYZ grid of the playground, er, SCP system, as something less heinous than it is--a conceptual sculpture, perhaps. A Robert Gober mashed up with a Sol Lewitt.

But then I give up. Because all I care about is getting back on the road now that the kid's blown off some steam and will give us another couple of hours of good behavior.
So yeah, I don't really care about SCP that much. What I'm actually trying to figure out is what the bump-proof playgrounds made out of carved wrestling mat foam are called, and who makes them. Because now it's Pizza Garden season, and if I'm going to have to hike a mile down and back to the bottom of the National Zoo every couple of days, I want to at least know who to thank for the oh-so-realistic-looking crust.
Who is this team of airbrush artists, and what do they call their work? Did they grow up in an airbrushing town--say, Akron?--where their daddies all painted large-breasted viking chicks on the sides of vans? Do they get a little sensitive about credit when the mall developer insists on bringing in some local artists? Do they dream some day of--oh. There it is right there, above the Daddy Types citation [!] in the Rainbow Valley Playground section of Friends With You's Wikipedia page:
The playground itself was actually designed by artists working for [Playtime LLC], a Denver, CO based children's play area provider. While general concept work was initialized by FWY, the actual working design, construction and delivery of the play area was executed by the team from Playtime.
OK, then! So Playtime, soft themed play areas, probably not, and yes, a little!
"How did all these soft [compact flourescent light bulb-themed] play areas sprout up in shopping centers across the country?" It's like they're reading my mind! "To understand the answer to that question, you must follow the career path of Mike Evans, President and CEO of PLAYTIME, LLC." You mean "Mike Evans - The Walt Disney of Play Areas"? We sure will! Stay tuned!
FEC Management Magazine, Sept/Oct 1997: Is Soft Contained Play Dead? [whitehutchinson]
"PLAYTIME's history is the 'History of Soft Play'" [playtimeco.com]
Previously: ">Road Trip! Rainbow Valley Playground by Friends With You
[images: detailedplaypro; mcwyoming; national zoo]