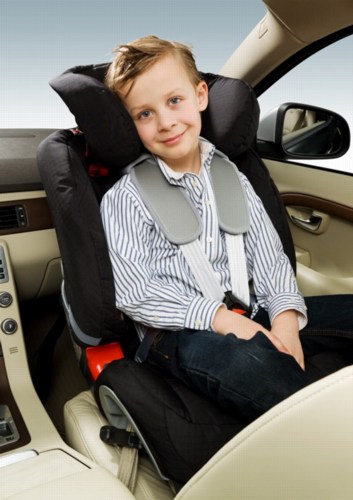 And I don't mean, "The kid has no legs," or "He's getting mud all over my leathers."
Edmunds has a ridiculous article about how poor, helpless Volvo has launched "three new state-of-the-art child restraints," but they can't sell them in the US because the NHTSA won't allow model-specific car seats.
"NHTSA has mandated that child seats cannot be vehicle-specific," said a Volvo corporate insider who asked to remain anonymous, writing in an e-mail to Inside Line on Thursday. "Every seat must fit every car -- in our opinion, this just makes for an inferior seat.

"We have requested rule changes by NHTSA and have been ignored. While NHTSA's rules certainly benefit all consumers, we have a solution that is the best solution for our cars."
What crap. There's nothing obviously Volvo-exclusive about the seats--an infant carrier, a convertible, and a rear-facing booster that supposedly goes all the way up to age 10--and Volvo doesn't make any actual claims that their seats perform better than the government-recognized standards in any jurisdiction, whether it's the US, the EU, or the Justice League of Asia or whoever.
If Volvo wants to sell their seats in the US so bad, why not just submit them for regular NHTSA testing? And if they only want to sell them at dealerships to people paying with Volvo Platinum Cards, that's their business. Did the other regions waive their official safety standards, too? Edmunds doesn't say.
Another thing Edmunds doesn't mention, but Autoblog, which joined the pity party, does: Volvo developed the seats with Britax-Romer. Britax is already expert at using massive size and a jacked up price to imbue their car seats with an aura of unsubstantiated--or at least unannounced--safety performance. Now I guess they're trying to do the same by partnering with a car brand that sees safety as a core attribute.
If Britax and Volvo have such superior seats, they should be working within the regulatory system to raise the safety bar for everyone; won't they have an advantage? If having kids face backwards until they're ten is so safe, it should be the law, here and in the EU. Couldn't Volvo get Sweden to adopt that standard? Instead, you have a major safety-touting car maker and a leading car seat company seeking to break the car safety standards regime in the US for their own benefit. Thanks a lot.
Volvo Creates New Child Restraints - But Can't Offer Them in U.S. [edmunds]
More like PRESS RELEASE: REPORT: Federal laws keeping Volvo from offering safer child seats [autoblog via dt readers john and seth]
disclosure: Last I checked, Volvo is still owned by Ford, who loaned me a car in hopes I'd review it. Whoops.